Free Whitepaper: How Diversifying CAD File Types on Your Website Increases Opportunities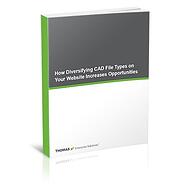 Computer-aided design (CAD) software has been used since the 1980s. Today is more important than ever, especially when used on manufacturers' and suppliers' websites. There are numerous CAD file formats used by designers and engineers.
Does your website have all CAD file types for your products? If not, you may be missing out.
In this whitepaper, you'll learn:
What the most popular CAD file types are and the top CAD file type downloaded on manufacturers' website
Why manufacturers need ALL CAD file types on their website

The opportunities available from diversifying CAD file types